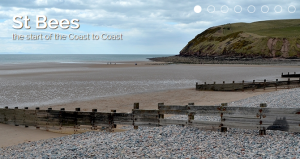 The best trail guidebook we found was Coast-to-Coast Path: St. Bees to Robin Hood's Bay (planning, places to stay, places to eat; includes 108 large-scale walking maps (large scale is a matter of interpretation) by Henry Stedman, the British Walking Guide Series; it is updated periodically. If indeed a trip is contemplated, begin with this book and the coast-to-coast websites. They have quite a bit of very pertinent information that is practical and informative. It is those informative bits that should fill in the missing facts, observations and data that I will not broach because it is all readily available in books and on the Internet. My purpose is to relate a bit how it feels to hike the C-to-C.
We really recommend doing a DIY; while a bit of work it allows you to personalize every step of the way; it really becomes your hike and it adds greatly to the anticipation and the appreciation of it as it unfolds. Another way is to do it is to have an outfitter/guide service do it for you. The expense then zooms to multiples of what you can do for yourself, which on having been through the DIY, the tradeoff of self-prep or being coddled, while a personal choice, is a good tradeoff. Thousands upon thousands of people through-hike it every year most DIY. Many more tens of thousands are on it doing day hikes from the B&Bs. You can, for example have the Smithsonian do a trip for you which cost several times the DIY cost and it will only take you through some of the stops. But, you will have and Oxford Don give lectures along the way. I would rather DIY and get my info from conversation with the locals, docents at the historical sites such as those at York and good books.
Don't bother with the maps on the web site. And be prepared to get lost or shall I say temporarily disoriented. Don't take it for granted, orient you position and check directions frequently, some do it nearly every few minutes by having the Steadman book/maps in one hand or by having it tucked in the front of their pants where they check it on the fly as they walk. Make sure maps are oriented with a compass that is, turn your map to the North on your compass and your position and direction will be most evident. Don't get shook up when you get lost, you are only momentarily 'bewildered' as Daniel Boone observed of his not knowing where he was; just know about where you are when things don't line up. You are in England for gosh sakes, you will run into someone or someplace rather soon, it could be that chocolate factory.
The above introduction to our itinerary belies the preparation we put into this trip. I suppose this experience actually began in an unknowing fashion by picking up a flyer at the local outfitter. The flyer was for 'wilderness' backpacking experiences which led to learning to canoe which led to the week or so on the AT which led to the Smithsonian magazine which featured the Coast-to-Coast twice which gave me the idea that we could do such a thing ourselves. Like brain surgery, it is easy once you do it. And the really immense anticipation was nothing compared to the experience which exceeded anything we could have conjured.
We were serious about the preparation so it included being good students of the task, keeping in reasonable shape, intensifying exercise leading to the hike and hours on the Internet and in meetings covering every reasonable detail. Consequently we were dry when it rained, warm when it snowed, prepared for rigorous conditions, well fed, safe, oriented, hydrated, never surprised and ready to enjoy. My day pack was a grand total of 15 pounds not including water and lunch which may be cheese, bread and fruit bought that morning from the post office (yup, the post office); now that is a real convenience store. All these extras beyond the 15 pounds of hiking essentials sometimes brought the pack to over 20 pounds. Still, when in shape, with hiking buddies and being in synch with your poles, one can fly.