Stage 1: St. Bees to Ennerdale Bridge1
The inaugural 14 miles seemed tough because it was. And we had to get used to the dead-reckoning, folksy narrative of the Steadman guide book: "Don't enter forest, but turn left and go through gate-keeping forest and fence to your right" (page 74, route to Cleator). What gate—this one or that one? What fence—there's no fence? Oh, that fence. Note that every building is named, especially the houses (I need a name for my house).
As usual, upon knocking on the B&B door, we were met by the proprietress, who was pleasant enough, but in retrospect, not nearly as nice as what lay ahead. Still, you only have to hike a full day to appreciate a shower or a bath—ah, luxury—and boots changed for or Crocs, even if only for a little while. But the experience goes way beyond a shower or a bath.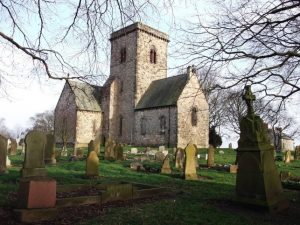 We asked the most important question: Where is a good pub? "Fox and Hounds" was the immediate answer, and off we went for an ale and supper. Along the way, we passed one of the dozens of charming local churches (Kirks) we would encounter—only this one had a vision of a young beauty strolling through the cemetery. We looked and passed a few remarks, (all appropriate of course), then we recognized it was Gill (who we came to know as we dogged each other on the trail), the young nurse who we met in the B&B in St. Bees and who was hiking to "think." She was getting married soon and such a trip was in order. It was her last chance to see her beautiful country. She had a jaunty pink daypack, no poles, and could hike the legs off all of us. I know the Brits are born to walk. And why not, England has so much history, beauty and poetry. Anyway, we suggested she join us for dinner. Turns out, she was a bit shy to go into the pub on her own; it is not appropriate for a proper Englishwoman to do so, so she was strolling the nearby churchyard to contemplate a solution to supper and a proper lady's glass of beer. We were most happy to provide it.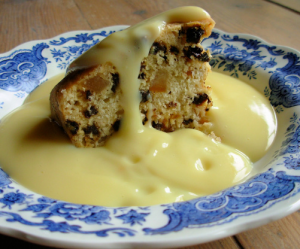 The evening was more than charming with conversation, joking, good ale, and good dinners all round. I recall I had some sort of meat pudding in an ale sauce, as it was most English. We couldn't pass up dessert, as it was Spotted Dick, the traditional British steamed-fruit sponge pudding, named for one of the King Richards, the "Dick" in the Spotted Dick, who loved the stuff. The spots are currents. When I went to the bartender (which is how dinners are ordered in a pub) to put in the dessert order, my other compadres were much too shy to ask for that certain dessert. He asked me if I wanted ice cream, cream, or custard with it. His accent was so thickly Scottish, I could not understand custard, although eventually I did. He kept saying "koostarrrrd, koostarrrrrd," rolling the R's, like the good Scotsman he is, hoping with each repetition this tourist would get the proper English pronunciation. They are so tolerant and mannerly in the face of ignorance.
We ate and chatted till well past 2100 (9 pm for those who need a translation), which became the pattern. Again, it is so civilized to eat and converse the evening away. Gill is a constant stream of genuine laughter; we are charmed out of our boots again. Yes, our Gill is quite a proper Englishwoman! What an emissary for a grand country.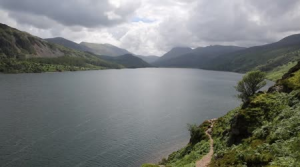 We three intrepid wanderers repaired to our rooms and to bed in very short order. My tiny room needed the roll-in heater and every inch of the twin comforter. Sleep was good, very good. A slimmed-down English breakfast, vitamins, coffee and we were off at the crack of 0900 again. Within a half hour, we faced the utterly magnificent Ennerdale Water, as it is called. Bilbo Baggins, Frodo, an elf or an Orc could have been sharing the trail any moment. Ennerdale is probably where the dragon, Smaug, plunged, pierced through the heart.
---
1 As per the Steadman Coast-to-Coast Path guide book.