Car-Camping Damascus, VA – Day 1
Getting into nature takes many forms, one of which is car camping.  There is virtue in taking very many conveniences to a designated camp site and setting up shop with a cooler of food, folding chairs and a walk-in tent.  (Beartree Campground: www.nps.gov).  What a great introduction to this form of getting out and about into nature.  It is very much in keeping with one of the philosophies of The Honest Backpacker – Say Yes to Things.
Day 1:  Traveling to Damascus, VA, and Beartree Campground, from Morrisville, NC.
The drive is a pleasant 3.46 hours from the Raleigh, NC, area because much of it is climbing the Piedmont into the Appalachians.  The GPS takes me through the back roads past farms the way they were for generations.  I think of the early pioneers and wonder how in the world they made a living when everything for hearth, health and home had to come from the land and forest and from sweat and determination.
Bear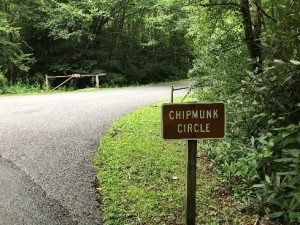 tree Campground, Chipmunk loop, is well . . . quite a pleasant surprise.  Set in pristine forest, a burbling stream within ear-shot and . . . wait for it . . . hot running water!  Gadzooks, imagine camping with a hot shower in sparkling clean restrooms.  Each campsite is manicured with ample space for a tent and all the goodies of car camping.  The site is complete with a heavy-duty picnic table, a BBQ Pit and pole to hang garbage from.  Not a single scrap of trash to be seen, not even a gum wrapper.  Even a little rain is not a bother.
Setting up camp . . .   Not knowing car-camping I am prepared with my backpacking gear and mountain bike as the trip is a Bike n Hike to bicycle the Creeper trail and hike Mt. Rogers with many a good stop in between.  Still there is convenience to being able to carry bottled water, an ice chest with fresh milk and sandwich fixin's.  I try to fire up my little Trangia white gas stove only to find the lid is frozen metal to metal.  I try everything.  When two pairs of pump plyers from the camp attendants fail, I resign myself to cold coffee.  Well . . . this is one of the reasons we camp, to work out the bugs.  And the coffee was not too bad, just took a little longer to dissolve my beloved honey. It doesn't take much time to set up and I pleasantly await the trip organizers:
Car-cam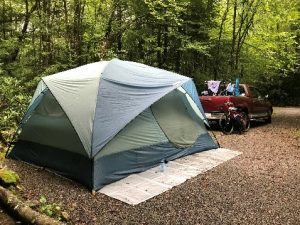 ping god and goddess, Daniel and Sue, arrive. I watch in near slack-jawed wonder as a huge walk in tent blossoms then in goes a queen size inflatable bed among other conveniences.  The accommodation is sumptuous when complemented with great camp BBQ, a rocking camp chair and a hammock.  Shall I go on?  We are set up in enough time to enjoy introducing ourselves over a glass of wine and discussing the long weekend agenda: biking the Creeper Trail, hiking Mount Rogers in Grayson Highlands State Park (http://www.dcr.virginia.gov/state-parks/grayson-highlands#general_information), a play at the Barter Theater in Abingdon, good food and visiting a very special old friend.  This will turn out to be a most memorable trip for all the right reasons.  To be continued . . .