Car-Camping Damascus, VA – Day 2
"Find  Your Way – Take A Hike"
Biking the lower half of the Creeper Trail and the Barter Theater
The Virginia Creeper Trail  is 34 miles of indescribable beauty and a remarkable trail for year-round hiking, biking or riding your horse.  The Creeper is an old railroad bed which follows the Whitetop Laurel River and was redone as a spectacular national park through a picturesque bit of the Appalachian forest.
It was built in the early 1900's to haul timber off the mountains.  This former rail bed
passes through the Mount Rogers National Recreation area and the highland country of Southwestern Virginia. The Creeper Trail is rich in beauty and regional history. This is an easy biking adventure that you, your friends and family will talk about for a long time.
I wonder how much lumber was hauled to make building a railroad and dozens of bridges cost-effective.  Oh well!  It made for many jobs and much progress.  And the forest seems to be recovering well.  It seems a good use of tax dollars, at least to this Honest Backpacker, to be sure.
On the first day, we biked the lower half of the Creeper Trail to and from Abingdon which is about 17 easy miles one way to Abington and mostly downhill.  The way back is just a little uphill and would be an easy spin for just about anyone.  We saw plenty of children zipping along on their 'kid bikes.'
Naturally, we just had to stop for lunch.  We hitched our bikes to the iron railing surrounding the patio to the Ellis Soda Shoppe and Grill set on Abingdon's picturesque main street.  Ellis is in a former pharmacy that, unlike others at the time, had no soda fountain. But it has one now – and the best sandwiches, sodas and ice cream in town!  We sat outside to delight in the relaxing country pace of a true mountain township with roots to pre-revolutionary days.
Any trip outdoors is an excuse to indulge a little or not so little.  I rationalized my "indulgence" by saving a few calories by having fruit with a sandwich so I could have a Coke float. That alone was worth the trip to Abingdon! I hadn't had such a treat in decades.  I won't describe the float; just go for one.  Perhaps it was the mountains; perhaps it was the conversation; perhaps it was just great ice-cream. . .
Thus fortified with food, drink and always the great conversation, we hit the Creeper to return to Damascus. The weather cooperated to cool a good spin, the sun sparkling through the arbor of hardwoods.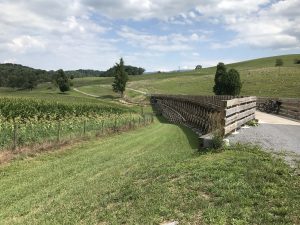 Dozens of bridges made the way remarkable and worthy of a pause just to gander the view. This included one especially spectacular trestle bridge newly rebuilt to an original 'T' after it was destroyed by a flood.  Mother nature will out.
And what did we do at the other end? Why, we went to the Off The Beaten Path Ice Cream Shoppe back in Damascus because we could and we wanted to.  Then it was back to Beartree camp, a hot shower, a good dinner with stories around the campfire. I am fond of saying that I have lots of "war stories," most of which are true.
More good friends were made.  Sleep was good as it was a little warmer and Daniel, the car-camping god, donated an extra sleeping blanket.  I learn that there will be a similar Bike n Hike to the Shenandoah Valley in October.  I vowed that on return I would get my car-camping gear in order!  I will be ready this time.
Tomorrow will be a double treat as I visit Ms. Ginny Adams, a dear old friend who runs the Lazy Fox Inn and who is legendary worldwide for the best breakfast and mountain hospitality on the Appalachian Trail. And we will see a Broadway show in Abingdon of all things, at the Barter Theater.
Jim Klopoivc
Your Honest Backpacker